Download this free report to learn how the recycled plastics pricing trends that began at the end of 2019 have set the stage the 2020 market.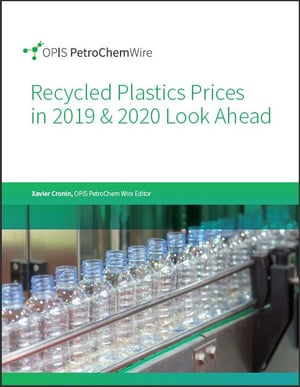 Download this free comprehensive analysis of recycled plastic trends that arose at the end of 2019 Read expert commentary, with added context provided by clear charts and graphs, for a complete picture of recycled plastic price influences predicted for the year ahead. Leverage a better understanding of prices in 2020 to make more informed buy and sell decisions.
You'll get a look at:
How and why HDPE natural post-consumer resin (PCR) prices surged at the end of 2019

Context behind slipping rPET and polypropylene bale prices throughout the year

What's to come in 2020 with plastics-to-fuel technologies, how prices are projects to shift and more

Charts and graphs to clearly demonstrate these 2019 trends to help you understand the context as we move further in to 2020.
Author:
Xavier Cronin, OPIS PetroChem Wire Senior Editor